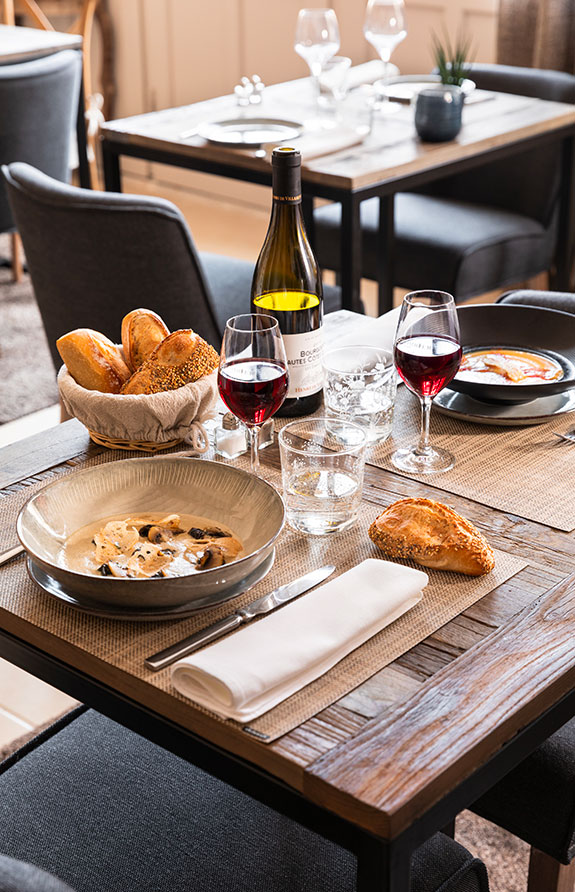 Opening
of the restaurant
---
Exclusively reserved for the customers of our establishment ( places are limited.)
Prior Reservation is compulsory.
Unique service in the evening from 7:00 pm till 8:30 pm.
During the periods of closure of our restaurant you will find our restaurants partener at distance walk
La compagnie de Fany Bar à Vins à Pommard.
Auprès du clocher à Pommard www.aupresduclocher.com
L'agastache à Volnay www.lagastache-restaurant.com
Table
of Colombier 1817
---
Come to take advantage of a moment of user-friendliness around our table of the Colombier 1817.
Exclusively reserved for our hotel guest , on our terrace with a view of vineyards or in our dining room, you can taste a home made cooking with Burgundy inspiration.
We pay a quite particular attention to use authentic and local suppliers, fresh products mainly bios and home-made.
You will have the pleasure to accompany your meal with a selection of wines glasses or in bottles, which will allow you to discover our famous beverages.
Naturally we can help you in your choices of wines by our comments and explanations.