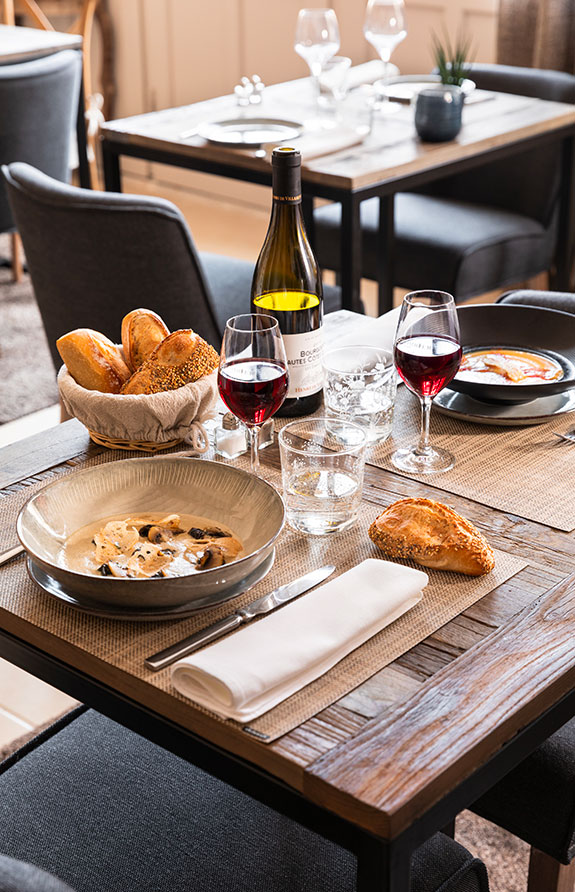 Opening
of the restaurant
Restaurant season 2022: Service only in the evening from 7:00 p.m to 8:15 p.m. Restaurant open only on weekends. Table only on reservation.
Service of a reduced menu and tasting, from 2:00 p.m to 6:30. p.m
We are operating on a single menu this year, please inform us of any food intolerances before your arrival. Do not hesitate to ask us for more information.
Due to our recruitment difficulties, our closing day is variable. Do not hesitate to contact us for more information.
October and November: Restaurant closed.
Many restaurants are available around Pommard, contact us for more information.
Table
of Colombier 1817
---
Come and discover our season dishes in the middle of the vineyards in Pommard. We are offering you a snacking homemade menu from 2 p.m to 6p.m, and you will be able to enjoy it with a wine degustation in our new wine cellars Maison Balthazard.
Naturally we can help you in your choices of wines by our comments and explanations.
Breakfast service every day from 8:30 am to 10:30 am.
Adult breakfast rate : 22€.
Children's breakfast rate up to 10 years old: 15€.
Continental breakfast service with savory dishes.